Neucodia System
Neucodia is a noninvasive, objective medical device that can be used in clinical practice, hospitals, and research laboratories for quick and reliable assessment of visual function. It is a novel electroencephalographic (EEG) device that provides select stimuli, synchronized data acquisition, amplification with adjustable filter settings, rich data processing tools in time and frequency domains, and statistical analyses. It is also equipped with a mouse-driven graphical user interface and automatic outlier removal algorithms, which facilitate easier, quicker, more accurate and reliable measurements of visual evoked potentials (VEPs) and pattern electroretinograms (PERGs).
Neucodia has 510k clearance from the FDA and is fully compliant with ISCEV standards. Our newest model of the device can be configured for a variety of applications that involve visual disorders including early-stage glaucoma, amblyopia, diabetic retinopathy and other neurological disorders.
Users: Ophthalmologists, optometrists, vision researchers, neurologists, psychiatrists, psychologists, and trained technicians.
Patients: Individuals at-risk for visual pathway dysfunction or with confirmed ophthalmic disorders.
Environments: Clinical offices, hospitals and research laboratories.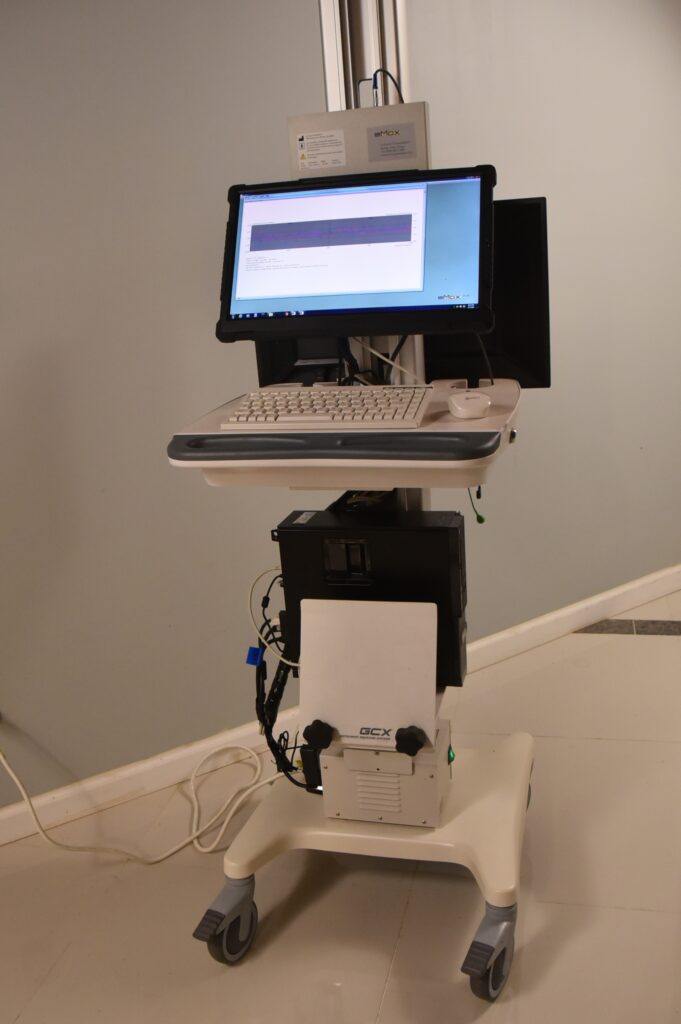 Application: Clinical testing for early glaucoma detection
Glaucomatous optic neuropathy is characterized by changes in the appearance of the optic disk, pattern of visual field loss, and death of retinal ganglion cells. There is evidence to indicate that large ganglion cells, presumably those in the magnocellular pathway, are affected selectively.

The Neucodia device utilizes a novel version of the isolated-check VEP (icVEP) technique (US patent) designed to tap cortical activity initiated primarily by afferents in the magnocellular pathway. The techniques applied in this test incorporate quick and objective measurement procedures.
Amplifier
The amplifier has a built-in bandwidth filter. It enlarges the EEG signal from the electrodes for digitizing. The design of the amplifier complies with the International Society for Clinical Electrophysiology of vision (ISCEV) standard and FDA regulatory requirements.
| | |
| --- | --- |
| Model: | Fafe -20 |
| Channels: | 1 and 4 differential channels |
| Gain: | 20,000 |
| Bandwidth filter: | 0.5 – 100 Hz |
| Optional: | Customized gain and bandwidth |
| Common mode rejection ratio (CMRR): | ≥ 120 dB |
| Input Impedance: | 2×1012 Ohm |
| Isolation voltage: | 1.5 kV |
| Input noise: | 1 µV p-p (10 Hz) |
| Input range: | ±25 mV |
| Power supply: | +8 – +15 VDC |
| Connector type: | 1.5 mm Male Safety jacks |
Accesories
·         Gold–cup electrodes with leads and connectors
· Disposable Ag/AgCl EEG electrodes
· Leads with snap connectors for disposable electrodes
· EEG paste
· Skin preparation